Ottimi punteggi da Vinous
---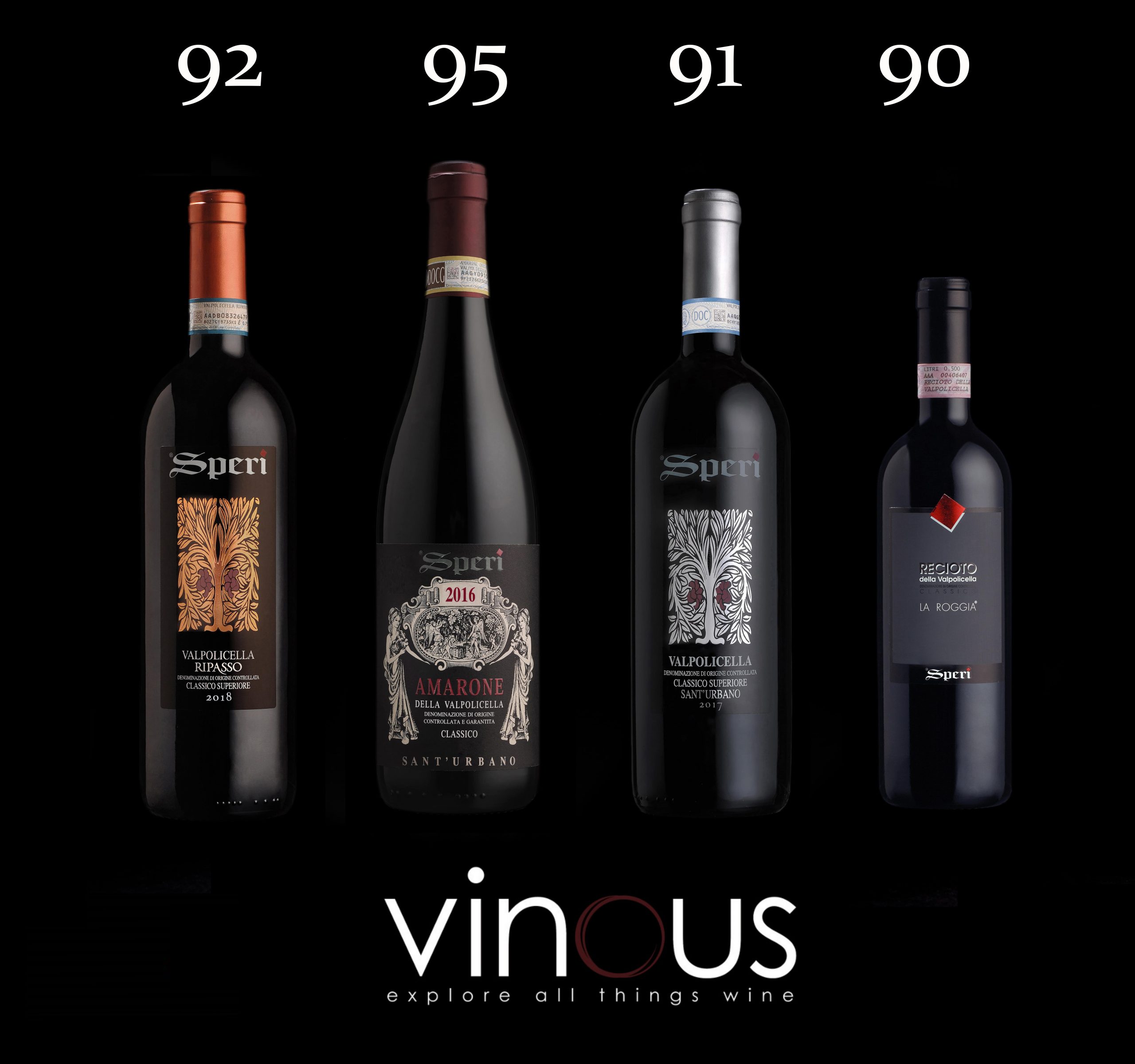 L'autorevole rivista americana Vinous di Antonio Galloni, considerata una delle più importanti e influenti riviste on line del mondo del vino, premia i nostri vini con ottimi punteggi.
Ecco le recensioni
Amarone DOCG classico Sant'Urbano 2016 – 95 punti: The 2016 Amarone della Valpolicella Classico Sant'Urbano takes some time to blossom in the glass, as mineral-tinged blackberry evolves into a display of currants and cherries complemented by hints of sweet mint, lavender and violets. It's velvety in texture and savory to the core, coasting dark red and black fruits across a medium-bodied frame, contrasted by vibrant acids, as grippy tannins form up toward the close. This finishes youthfully structured yet amazingly long, with echoes of licorice and purple inner florals. The 2016 is geared for the cellar, and in need of some time to soften, but my expectations are very high.
Valpolicella DOC classico superiore Ripasso 2018 – 92 punti: While the 2017 is all about power, the 2018 Valpolicella Classico Superiore Ripasso is deeply alluring yet lifted and spry. A beautifully perfumed mix of violets, roses, sage, white pepper and crushed blackberries forms in the glass. The textures are silky, yet this is wonderfully juicy in feel, with sour cherry and zesty citrus giving way to inner herbal tones. Nuanced tannins linger, framing the expression nicely, as residual acids keep the mouth watering for more. I seldom find myself using the word "delectable" to describe a Ripasso, but that's exactly what this is.
Valpolicella DOC classico superiore Sant'Urbano 2017 – 91 punti: The 2017 Valpolicella Classico Superiore Sant'Urbano is lifted and floral, pulling you close to the glass with a gorgeous display of blackberries and cherries complemented by fresh mint and lavender. It's silky in texture, contrasted by a savory mix of wild berries, woodland herbs and salty minerals. This is full of energy with a mentholated freshness, tapering off to notes of tart raspberry and sour citrus. You'd never expect that this wonderfully lifted and balanced Valpolicella was the result of a warm, dry vintage.
Recioto della Valpolicella DOCG la Roggia 2017 – 90 punti: The 2017 Recioto della Valpolicella Classico La Roggia seduces with a rich and heady bouquet, as sweet white smoke gives way to cherry liquor, exotic spices, candied ginger and a soothing note of vanilla. It's silky in texture yet much more lifted than expected, showing remarkable energy for a Recioto, but also decidedly sweet and monolithic. This finishes long, resonating on concentrated notes of blackberry, citrus peel and hints of bitter bakers' chocolate. The 2017 La Roggia is front-loaded and all about unapologetic pleasure.